WINNER of the 2014 BBB Torch Award for Marketplace Ethics

Vows From The Hear Ministries (dba; Elope to San Diego™) is very proud to have received the 2014 "Torch Award for Marketplace Ethics" by the San Diego Better Business Bureau. BBB's Torch Awards for Marketplace Ethics, now in its 17th year, is a staple in the local business community – attracting attention from small and large businesses alike.
Hosted to acknowledge businesses that maintain a commitment to excellence and transparency, the Torch Awards program celebrates not those whom have seen unfettered growth and success, but those who maintain a strong connection and commitment to treating customers, employees, vendors and the community with respect and honesty. Read the full Press Release

Take the time to look at our reviews and more importantly, look at the other companies on Yelp and see for yourself why you should select Elope TO San Diego™ for your special day! In addition to the 5-Star reviews on the front page, we have over a dozen 5-star reviews that yelp likes to hide and we encourage you to read those too.
Plus, be sure to read the "other elopement" services in San Diego on yelp to, especially their hidden reviews. Elope to San Diego understands that couples want and need some assurances of the elopement company they are considering to be professional and you'll find that Elope to San Diego is a member of the Better Business Bureau and proudly holds an A+ rating. Are the others?
~~~~~~~~~~~~~~~~~~~~~~~~~~~~~~~~~~~~~~
Beginning June 1, 2014 in celebration of our 10th Anniversary, all couples receive a Handcrafted Elope to San Diego™ Ceremony Keepsake.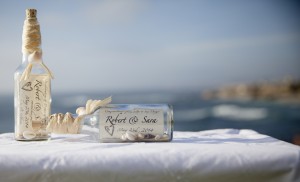 ~~~~~~~~~~~~~~~~~~~~~~~~~~~~~~~~~~~~~~
Congratulations! You've made that big decision and are ready to run off and Elope to San Diego™! Now, let Elope to San Diego help you in planning an INEXPENSIVE and romantic elopement with the information you need on how to do it without spending a fortune. You've come to the right place! Understanding couples wising to elope are on a tight budget, Elope to San Diego™ has the information you need to put the plan in motion. The best part is; there are no additional fees to take advantage of the special vendor packages offered with Elope to San Diego™. Better yet, let us show you how to save money with area hotels and fine restaurants that work with me! (some offer packages at a price only available through Elope to San Diego™)
THE KEYS TO THE SUCCESS OF ELOPE TO SAN DIEGO™:
Unlike most of the other elopement services offered in the area, we don't take a commission or referral payment from any vendor working with us.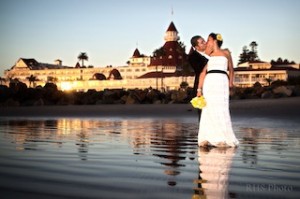 Each vendor believes in the Elope to San Diego™ concept; to provide professional services without the high costs associated with the word "wedding" or, they are simply not part of the Elope to San Diego™ family. Plus, we don't have a family member as the photographer and force you to use them. We don't even force you to use an expensive package based on the amount of witnesses you have like one of the others. Plus, you are more than welcome to find your own and shop around…..It's your day and most importantly, it's an Elopement! But we do have the best at lower rates…..
SAVING MONEY
Let's face facts, if you wanted to spend thousands on your wedding day and  participate in the pomp and circumstance of a traditional wedding, you wouldn't be eloping!  So why come to San Diego and hire someone that will over-charge you? And trust us, there are a few that will!!!
Whatever the idea; a quiet moment in one of many beautiful parks in America's Finest City's or a "barefoot in the sand" ceremony along the Bay or the Pacific …Elope to San Diego™ is designed to help you put everything together.
THE STORY BEHIND THE MAGIC
Elope to San Diego™ was created by Reverend Christopher Tuttle, an AWARD WINNING San Diego and Temecula Wine Country Wedding Officiant after hearing about a couple that paid over $1,000 just to elope! Knowing that couples simply want an alternative to Vegas and the Courthouse (and because he loves sunsets on the coast), he put his plan together; To offer professional and romantic elopement services to couples without overcharging couples. Since that blessed day, he has helped over one thousand couples from around the world Elope to San Diego™ by not only creating an unforgettable elopement ceremony, but by helping couples find lodging, photographers and even offering restaurant suggestions and lodging. This is what Rev. Christopher does, full time and is an exciting and romantic part of his wedding ministry! This is what sets him a part from the others. 100% focus on weddings and his couples, How many others can say that!
Rev. Christopher then researched, interviewed and brought together many top quality wedding vendors in the area that believe in the Elope to San Diego™ concept and have agreed to offer special rates and services just for Elope to San Diego™ couples.
"An elopement should not be expensive, what it should be is; a special moment without the hassles and expense of a wedding!" – Rev. Christopher – Elope to San Diego.
On a local wedding magazine website they sell their referral services to local vendors with the following statement…"It is time you get a piece or a bigger piece of this gold filled wedding cake!" Don't you feel special knowing that most wedding vendors are out for your money?
HOW DOES IT WORK?

Look over the many packages offered, secure your ceremony services and you'll then receive the information and special codes supplied by each vendor. As we are NOT a travel agency, you still get the excitement of planning your elopement getaway with the information you need to get it done while saving time and a few dollars in the process.
_________________________________
Looking for Full Service ceremony services? Please visit Vows From The Heart.
Elope to San Diego provides Elope San Diego information for couples seeking an alternative to having a celebration at the local county clerks office or a trip to Las Vegas. Elope to San Diego provides Elope San Diego information on locations and license information.