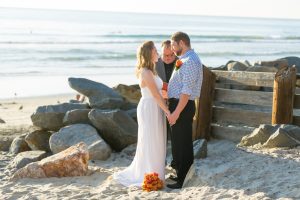 "San Diego's North Shore" is the perfect feet-in-the-sand location for you elopement ceremony. Services are offered at the base of the Cassidy Street staircase to Oceanside beach. We use this location for two BIG reasons: Simple and FREE easy to find street parking (even in the busy summer months) and a less crowded area of the Oceanside Beach (Better than the busy tourist area of the Oceanside Pier to the north). We can also help our couples year round at one of the many Oceanside Condo Rental Properties.
Plus, you can and bring along up to 17 family and friends join you at no additional charge.
~ NO CITY PERMIT REQUIRED FOR THIS LOCATION ~
CLICK HERE for more information on how to Elope to Oceanside from Elope to San Diego!