CORONADO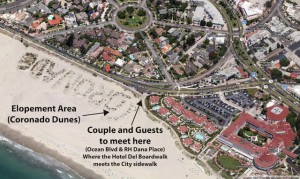 For an elopement (w/ 20 witnesses): No permit is required at the dunes of the Central beach just north of the historic Hotel del Coronado.
No Chairs or Altar.
Street Parking Only.
Public restroom/changing facilities nearby.
Coronado is a peninsula, a very small island town located across the bay from downtown San Diego, California. It is about 7.4 square miles and is accessed by way of the San Diego-Coronado Bay Bridge or by ferry boats from downtown San Diego. Coronado Island is best know for the historic Hotel Del Coronado and makes for a beautiful backdrop for elopement photos. Eloping couples can choose from two locations; The beach of the Hotel Del Coronado or Bay View Park with an awesome view of the San Diego Skyline.
—————————————–
OCEANSIDE
San Diego's North Shore, Oceanside is a classic California beach community with its warm sandy beaches, historic wooden pier and Cape Cod-style harbor village complete with unlimited water sports and recreation. Offering a quiet escape from the hustle and bustle, visitors still experience the casual spirit that made Southern California's beach culture legendary.